24 Hour Locksmith near Aurora, CO
Lock and key mishaps can happen out of nowhere, causing frustration and inconvenience. Whether it's getting locked out of your home, car, or workplace, or dealing with a broken key, these unexpected situations can throw your plans off track. At BS Locksmith, we're here to make these challenges easier for you. Our goal is to quickly and effectively address various locksmith emergencies in Aurora, and surrounding areas. Whether you're facing an early morning lockout, a late-night key problem, or any other surprise locksmith issue, our dedicated team is ready to step in and help. With our experience and commitment to providing top-notch service, we're your reliable partner in restoring your peace of mind when you need it most.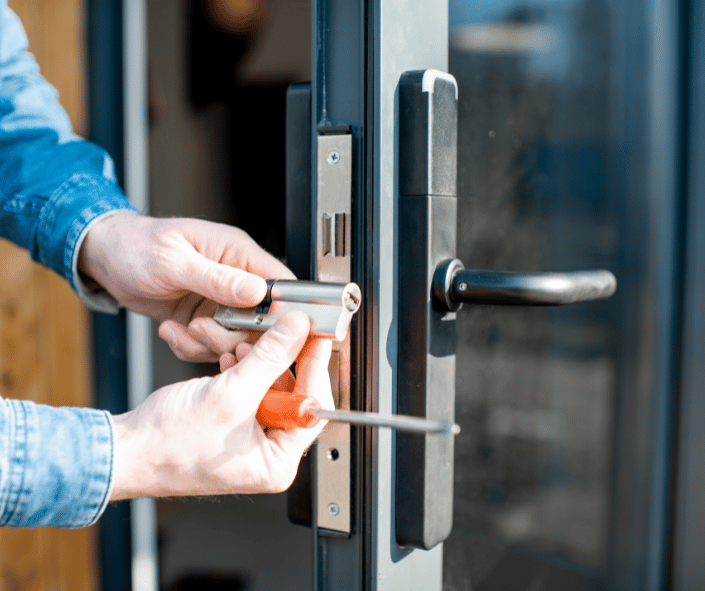 In the hustle and bustle of modern life, unforeseen lock and key issues can arise when you least expect them. That's where we come in. At BS Locksmith, we understand that emergencies don't wait for convenient times, and that's why our dedicated team is here to provide swift and reliable emergency locksmith services in Aurora, CO and the surrounding areas.
Our Emergency Locksmith Services:
At BS Locksmith, we offer a comprehensive range of emergency locksmith services throughout Aurora, Colorado and surrounding cities to address your urgent lock needs with precision and care. Our locksmith services are designed to provide you with fast solutions, ensuring your peace of mind in any lock and key situation.
Lockout Assistance: Accidentally locked out of your home, vehicle, or place of business? Our experienced lockout locksmiths specialize in safe and non-destructive entry techniques, swiftly getting you back inside.
Lock Repair: Whether your lock is damaged due to wear and tear or an attempted break-in, our skilled technicians can repair it efficiently. We use high-quality materials to restore your lock's functionality and security.
Key Replacement: Lost, stolen, or broken keys can be a major inconvenience. Our on-the-spot key replacement service ensures you have a key in your hands quickly, minimizing disruption to your day.
Lock Rekeying: Enhance your security without changing the entire lock. Our lock rekeying service involves altering the lock's internal pins and mechanisms, rendering old keys useless and providing you with a new set of keys.
Our team of locksmith professionals excels in various specialized areas:
Car Locksmith Services: From car lockouts to transponder key programming, we have the expertise to handle a wide range of automotive locksmith needs.
Residential Locksmith Services: We understand the importance of feeling secure in your home. Our residential locksmith services include lock installation, repair, and upgrades to ensure your family's safety.
Commercial Locksmith Services: Protect your business assets with our commercial locksmith services. We offer solutions such as access control systems, master key setups, and high-security lock installation.
Reliable Emergency Locksmith in Aurora, Colorado
When emergencies happen, you need a locksmith you can rely on, no matter the hour. At BS Locksmith, we understand that lockouts, lost keys, and security issues can happen at any time, often catching you off guard. That's why we're dedicated to being your emergency locksmith service in Aurora, CO and the surrounding cities. Our commitment to 24 hour availability means that whether it's the dead of night, a weekend, or a holiday, our team is always prepared to swiftly respond to your locksmith needs. Your safety and convenience are our top priorities, and we're here to ensure you have the support you need when you need it the most.
24/7 Availability: Lock and key emergencies can happen at any time. Our 24/7 availability means you can rely on us to assist you, day or night.
Weekends and Holidays: Lockouts and other emergencies don't take a break on weekends or holidays. Our team is dedicated to serving you during these times as well.
At BS Locksmith, we're more than just a locksmith service; we're your dependable partners in ensuring your safety and security. Our straightforward approach, combined with our expertise and commitment to quick response times, sets us apart. When you're in need of emergency locksmith services in Aurora, CO or nearby areas, trust BS Locksmith to provide efficient solutions that put your mind at ease.
For emergency locksmith assistance or to inquire about our services, reach out to us at 720-372-8021. Let us handle your locksmith emergency with professionalism and care.
Our Emergency Locksmith Service Areas: 
At BS Locksmith, we take great pride in being the go-to emergency locksmith service for the vibrant city of Aurora, CO. Known for its diverse communities and bustling neighborhoods, Aurora presents a unique blend of residential, commercial, and automotive locksmith needs. We understand the importance of security and convenience for both homeowners and business owners in neighborhoods such as Meadowood, Tallyn's Reach, and Murphy Creek, among others. But our service doesn't stop there – we extend our swift and reliable locksmith solutions to the neighboring city of Denver, CO as well. From the historic charm of Capitol Hill to the urban energy of LoDo (Lower Downtown), we're here to cater to Denver's locksmith requirements. Whether you're in Aurora, Denver, or any of the surrounding suburbs, BS Locksmith is your trusted partner for top-notch emergency locksmith services.
Facing an Emergency Lockout or Key Issue?
Don't let unexpected lock and key challenges disrupt your day. BS Locksmith is your reliable partner for swift and effective emergency locksmith services in Aurora, CO. Our expert team is available 24/7, ready to provide prompt assistance, whether it's a lockout, lost key, or broken lock. Your safety and peace of mind are our priority. Call us now at (720) 372-8021 to regain access and get back on track with BS Locksmith by your side.
Frequently Asked Questions
What does an emergency locksmith do?
An emergency locksmith specializes in responding promptly to urgent lock and key situations, such as lockouts, lost keys, or broken locks. They employ techniques to gain access without causing damage, ensuring you regain entry to your property or vehicle safely and efficiently. If you are located in or near Aurora, Colorado, BS Locksmith offers fast emergency locksmith services! 
Can a locksmith get in without a key?
Yes, a skilled locksmith can use various non-destructive techniques to gain entry to a locked property or vehicle without a key. They have the expertise to manipulate locks, use specialized tools, and employ methods that maintain the integrity of the lock and door.
Can a locksmith open a key lock?
Certainly, as locksmiths we are trained to open key locks using expertise and specialized tools. We can address lockouts by picking the lock, using lock bypass methods, or rekeying the lock if necessary.
What to do if you lost a key to a lock?
If you've lost a key to a lock, it's recommended to contact a locksmith. They can create a new key or rekey the lock, making the lost key obsolete and ensuring your security isn't compromised. BS Locksmith is here to assist Aurora and Denver residents with their lock needs. Contact us! 
What do I do if I lost the key to my door lock?
If you've lost the key to your door lock, consider reaching out to a locksmith for assistance. They can either create a new key or rekey the lock, providing you with a fresh set of working keys and ensuring your property remains secure.